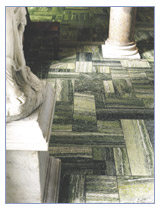 Along the Atlantic seaboard on the west coast of Ireland are twelve mountains that are steeped in myth and mystery. In the heart of those Twelve Bens are the green marble quarries which produce the renowned, distinctive, green Connemarble.
Stone defines Ireland's spaces, and it is in the permanence of stone that fragments of the Irish past are recorded. Even before the Celts arrived in Ireland, Neolithic (New Stone Age) peoples were skilled in stone work. Over the years, artisans have celebrated their faith with great monuments of worked stone.
Today, the descendants of Stone Age men still work stone in the form of polished marble tiles and slabs. The village of Recess, in the heart of Connemara, is home to a company dedicated to working what is possibly the best – and certainly the most beautiful – marble in the world. The craftsmen at Connemara continue a long trade in polished stone that began when the first man-made exports from Ireland were decorative stone axes of Connemarble.
Today, Connemarble is in short supply and may indeed be the rarest of marble still available. whereas new gold deposits are being discovered constantly and therefore may be minded indefinitely, Connemarble is a never-to-be replaced treasure that diminishes in volume – and appreciates in value – with every piece that is removed.
Dating from the Pre – Cambrian period over 750 million years ago, Connemarble shows twisted and interlocking bands of serpentine in varying shades of green, sepia, cream and grey interrupted by veins of crystalline calcite and dolomite.
The only marble that is sometimes used as a semi precious stone, it has been used by famous sculptors to create National monuments and treasured pieces of art.
Through the centuries Architects and Designers have taken advantage of its rare beauty to add elegance and prestige to their buildings. The great attraction of Connemarble is the life and movement contained in the forty shades of green for which it is noted.