Quarry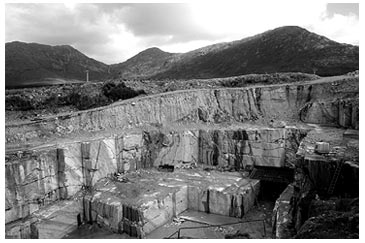 Our quarry in Galway is in the geological area known as the 'Connemara marble formation'. This open face quarry is situated in a valley surrounded by hills. The marble is sawn into manageable size blocks with diamond wire and removed with a Derrick crane. Because of its metamorphic geological history we employ special extraction techniques. Quarrying Connemara Marble is one of the most enjoyable jobs in the stone business. It is a primeval occupation, and because of the highly variegated colour of the marble it is a constant pleasure to witness the different colours as they are extracted. Nothing beats the sparkle of translucent green marble in the quarry on a rainy day.
Showroom
Our Connemara Marble showroom in Recess, on the main Galway -Clifden road (N59) is alongside the small grouping of shops known as 'Joyces' in Recess, County Galway, Ireland. Exhibitions are held from time to time with various Irish Connemara Marble Green products on display. The current exhibition is of a range of occasional table in Canadian oak and Connemara Marble. These elegant tables sometimes use book-matched tiles and slabs. There are always samples of Georgian fireplaces and Vanity basins on show.
The floor of the showroom include samples of combinations of Irish Connemara Marble Green and other contrasting 'neutral field type' marble. Visitors to Connemara and Ireland are invited to come and visit our showroom and see a complete range of our products on show. At the nearby Joyces Craftshop it is possible to buy various smaller gift items in marble. The showroom is open from March to November. We use our showroom to introduce new products and test public reaction to planned products.