The following is an article that appeared in the Autumn 1998 edition of The World of Hibernia magazine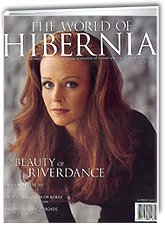 Along the Atlantic seaboard, on the west coast of Ireland, there are 12 mountains that are steeped in myth and which have inspired writers and poets for centuries.
At the heart of the "Twelve Bens" in Connemara, County Galway, nestle marble quarries that mine the unique green stone known as Connemara marble.
The treasures of these hills were discovered many centuries ago, and it is well documented that one of the earliest exports from Ireland was a carved green-marble spearhead, which found its way to Suffolk, England, some 2,000 years ago.
That was just the beginning of a trade that continues to this day-a tradition that one Irish family is bringing into the 21st century with modern mining techniques and innovation.
Connemara marble, as its name implies, is a resource found nowhere else on earth than in the Connemara region of Ireland.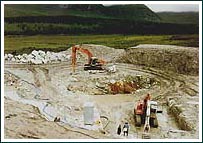 Other marbles in all sorts of hues and colors-from subtle pinks to inky blacks-have come from as far away as China, Greece, the U.S., and Italy. However, in a land of a thousand shades of green, the very core of the rock foundation in this tiny region reflects the ever-changing colors of its sea, its lakes, and its landscape. Because of its scarcity, Connemara marble is also one of the rarest marbles still available.
This unique gift of nature did not happen overnight. Geologists estimate that its formation dates back 750 million years, to the Precambrian age. During that period the earth put down layers of wonderfully swirling veins and ever changing patterns. Connemara marble shows twisted and interlocking bands of serpentine in varying shades of green, sepia, and gray, punctuated with seams of crystalline and dolomite – each piece making its own statement. Many adherents claim that the rich green hues of Connemara marble imitate the sages, mosses, lichens, and grasses that flourish throughout Ireland.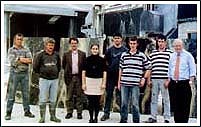 One clan that has become synonymous with Connemara marble is the Joyce family of Recess, a small, one-street village in Galway. Recess gained its name long ago when the English owner of the town's "big house" visited Ireland every summer for a break, or "recess."
The Joyce family has lived here for as long as anyone can recall – Joyce being the name of one of the 12 tribes of Galway.
Currently looking after the family interests is patriarch Kevin Joyce. "I was always fascinated by the marble," said Joyce, who is chairman of the Connemarble, Green Marble Quarries. "My father bought the quarry more than 50 years ago, so it has always been part of our lives." Joyce noted that although he "went into other businesses, moved away, and lived in the States for many years," he never lost his emotional ties to his home village. "We moved back in the early 1980s and I went into the bar and retail trade and eventually the craft business, too."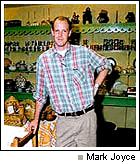 When his father died four years ago, Joyce bought the company from his mother – fulfilling a lifelong dream to own the 400 year-old quarry – and was determined to broaden the horizons and profile of this rare commodity.
Yet, despite his expanding range of businesses in Recess, Joyce had a vision. He did not want to change the village and worked hard to ensure that it retained its charming, local feel. Joyce is a man full of bonhomie and enterprise and it is a testimony to his sense of humor that he saw fit to erect a monument in his home town that marks – nothing.
"Everywhere you go there are monuments and statues to commemorate this battle or that historical event," said Joyce. "We had nothing to commemorate, so why not have a monument to that?" Thus, in the center of town an impressive marker bears the inscription: "At this place in 1897 nothing happened!"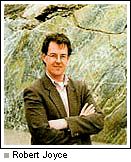 With such a wry sense of humor and a strong affinity for his birthplace, it is no wonder that Joyce is something of a local legend in Recess – where nearly everybody carries the same surname as he. In fact, he has nearly a dozen Joyces working for him – most of whom have no blood ties to their employer.
As Joyce became more involved with marble, he sold off the bar and grocery businesses, choosing his purchasers carefully, favoring young families who would live and grow up in Recess.
"Marble has always been my first love," said Joyce. There is an indefinable quality to working with stone, and anyone who works with it will endorse that. It must have do with the communion of nature and time – there is something solid and lasting, and you feel part of it. The Joyce quarry; according to a recent geological survey, is estimated to hold about one-and-a-half million tons of marble. At present, 10,000 tons are quarried each year – a rate, which, if maintained, leaves plenty more marble to mine well into the 22nd century.
The deeper into the ground the miners delve, the more glorious the green. The glory of the finished product, however, is well hidden in the roughly hewn stone, with only a hint of the verdant splendor that awaits.
Mark Joyce
The quarry is tucked away in a valley and hidden from view – as though nature herself decided to keep her treasure a secret. It lies on one side of Recess, while the stone works and factory lie to the other. In the village itself the row of shops has a factory outlet and gift shop run by Mark Joyce. As with his father before him, fate dictated that he rejoin the family business. In 1997 he returned home after a career in filmmaking, to fill in for his mother, Margriet. Now, he says, nothing would entice him away.
Kevin and Margret's other son, Robert, is managing director of the factory. He and wife, Alma, have just had a son, Andrew James Joyce, and already he is tipped to be a member of the fifth generation of marble masons in his family. Robert claims that he inherited his love of marble from his grandfather and started cutting stone when he was still a youngster. After beginning his career as an accountant, he joined the company a month after his grandfather's death.
With all the Joyce family now onboard, they soon discovered that they were continually getting inquiries for larger and larger slabs of marble. Finding the capabilities of their existing machinery and equipment stretched to their limits, Kevin and Robert embarked on a modernization program. Along with a significant investment, they bought purpose-built machinery and revamped the entire works and factory. Now, in the highly modern facility, wire saws cut through the rock before it is fashioned into sizes suitable for its various uses, while calibration, chamfering, and polishing are also carried out with great precision. The company has 16 employees, each working in a different aspect of the company's business.
Robert JoyceRecess's local swallow population has claimed nesting rights in the factory stores and are welcome squatters, for local folklore says it is unlucky to displace them. Instead, workers have devised a method for protecting the finished products from the birds' deposits. And the swallows have chosen to use marble fragments in the construction of their nests – taking the medium to a new echelon.
The Joyces, too, have taken marble and its uses to new heights, cutting it into sheets 5 millimeters thick and fusing it with glass, for surfaces such as table tops; slicing it into large sheets for paneling; backing it with galvanized steel; and cutting it into tiles for fireplaces and slabs for flooring. Connemara marble has found its way to places all over the world – to the walls and floors of penthouses, financial institutions, clubhouses, and villas – and architects are continually developing new applications for the precious stone. So perhaps the secret of Connemara marble is out. No longer confined to its earthen depths, the emerald-hued marble has found beautiful applications in interiors world wide.