Irish Connemarble Green is produced in 10mm thick tiles and 2cm thick dimensional slabs. These products are available from stone retail/fabricators in Europe and the US. Stock is available in most areas from regional stocking distributors who supply retailers. Because of the high degree of variegation in Connemarble, which is the essence of its great value, it is important to select your own particular slab. If you do not know any local retailer, please contact us and we will be happy to get our regional distributor to give you the names of the stone retailers they deal with in your area.
Slabs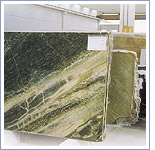 Irish Connemara Marble slabs in 2cm [3/4"] thickness are available throughout most of North America and Europe. Ask you nearest stone retailer for our product and they will be able to direct you to our nearest distributor. If you email us we will be happy to help you in this. As this marble is so unique and highly variegated, the best way to select it is on site. Samples and colour indications are just that and the colours illustrated on this site give a very good broad view of the range of shades.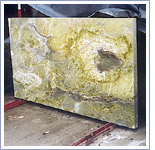 3cm slabs
3cm thick slabs are available on a limited basis, and we generally only cut this size to order for large quantities.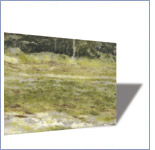 Irish Connemara Marble panels:
Irish Connemara Marble is the leading luxury marble in the world. Famous for the elements of translucent apple green colour included in the wild variegation of dark and pale shades of green. This geologically ancient marble is the same marble the Renaissance architects used whenever they wanted to bring the colours of the fields and woods into their great buildings.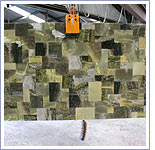 Non Standard Product. We are happy to supply and facilitate any request for non standard products in Connemarble. These could include pillars, extra thick slabs to do mouldings.
This sample of Connemara Marble Brickstone (Strata) is available for use in many different formats manufactured by Stein Art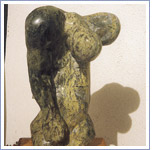 Torso – by John Godkin Santa Barbara, California
Chippings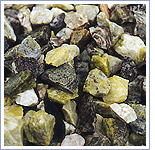 Connemara Marble chippings are suitable for different applications. Available loose or in bags.